How to Implement a Project Management Solution in 6 Steps
by Jarno Koopman on March 17, 2023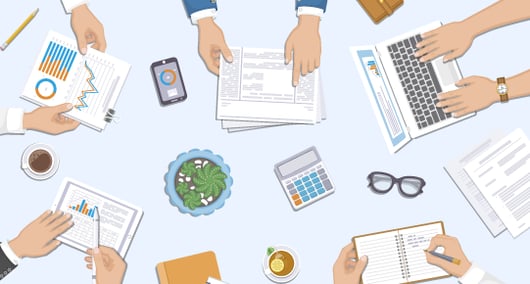 Professional service businesses, like marketing agencies, IT firms and the like, will need some sort of project management solution to manage day-to-day workflows and the execution of projects and services.
Adopting a whole new software tool for your business isn't a small thing. At the outset, the whole process can feel overwhelming, whether you're a startup doing it for the first time or an established business that's switching solutions.
When it's time to implement project management software for your team, follow these 6 steps to cover your bases and make the onboarding process as streamlined as possible.
TIP: You can also milestone the implementation, setting deadlines for each phase (something we recommend). Now let's begin.
1. Identify your requirements
What exactly do you need your project management solution to do? Before you start researching different project management platforms, figure out your requirements. Write them down in a list. Things to consider include:
Necessary features i.e. Gantt charts, automated invoicing, etc.
Integration with your CRM (if you use one)
What do you need to optimize your workflows?
How do you want your team to collaborate?
This step is going to help you shortlist the right project management solutions that fit your needs. You will be able to save a lot of time shopping for software when you already know your parameters.
2. Stakeholder buy-in
If you want your project management solution to actually help your team and make life easier, don't forget the importance of stakeholder buy-in. It always helps to get your key players on board with the platform, from project managers to team members and consultants.
Include stakeholders in the process of selecting your project management solution. These are the people that will be using the software day-in and day-out, and they may provide important insights that can influence your decision.
If the majority of your team is against a particular option, for example, be open to exploring an alternative that may be better for everyone on the whole.
3. Make a training plan
Project management solutions work better when people know how to use them properly. Also, many options today come with really cool automated features that can save your team time. And it's imperative that people know how to leverage them if they need to/want to.
To make sure everyone knows how to use the software to do what you want it to do, make a training plan. Allocate adequate time for training sessions and offer people ongoing support.
Ongoing support is really important. For example, even if everyone knows how to use it adeptly, updates and new features added to the software sometimes necessitate more training in the future.
4. Get familiar with customer support
Speaking of ongoing support, the top project management solutions usually offer a plethora of customer support resources. These will include things like YouTube videos that can show you how to capitalize on certain features.
In addition, you can check out the solution's help page; these are usually in-depth resources that contain the most commonly asked questions.
Finally, sometimes an old-fashioned phone call may be in order. Make sure to get familiar with your project management tool's customer support resources to help provide your team with ongoing support. Everything will then be easier when updates and new features are released.
5. Plan your data migration
Whether you are transferring scattered data into a project management solution for the first time or you're switching to new software, you'll need to plan for the data migration. Make sure your new project management software can import your current data. If your information is siloed in multiple places, make sure it's organized enough to make the migration process quicker and easier.
6. Run multiple tests before going live
Finally, make sure to test your project management solution multiple times before going live. Encourage your team members to give it a whirl and play out multiple use-case scenarios. This will help you identify any issues and resolve them before going live with your software.
Also be sure to test out your integrations with the tools you're already using, like Slack, a CRM, etc. All in all, you're seeing if there are any kinks that need to be worked out because it will be more difficult to remedy months down the road.
In Sum: Set yourself up for success
You can set your organization up for success by following these 6 to do's when it's time to implement project management software. This can help ensure that you're using the solution to its full potential across your organization and that everyone's on the same page. Good luck!