9 Tips for Pipedrive Project Success
by Julie Bennett on August 22, 2023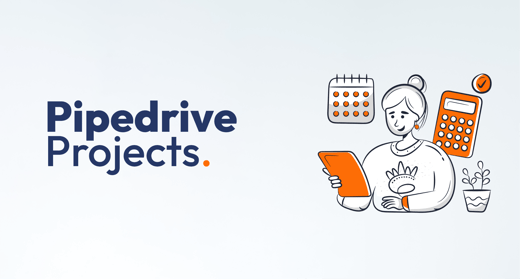 Pipedrive provides an intelligent CRM and sales funnel that can help businesses of all sizes win more deals and ace their productivity. The platform does this with easy-to-use workflow management that's won over users around the world, from freelancers to Fortune 500 companies.
Pipedrive isn't just a popular place to win deals and manage your marketing campaigns. It's a great jump-off point for your projects that can benefit from Pipedrive's functionality and features that you've already used to manage your sales.
We've created a list of tips for project managers and owners who use Pipedrive to increase their project success, aka project profitability.
Overall, all these Pipedrive project management tips are meant to optimize your deal-to-cash with the same enthusiasm you give your sales funnels.
Like any good sales funnel, your deal-to-cash pipeline must operate like a well-oiled machine to get the best results. Here are 9 ways you can do just that when you're managing Pipedrive projects:
1. Automate your invoicing
Invoicing is one of the great banes of consultants everywhere, but it doesn't have to be a hassle, especially if you're already using Pipedrive as your CRM. The answer is to automate your invoicing on the project side to make sure you're on a consistent billing schedule.
You may be able to go even further with features like self-driving time tracking which will generate an invoice based on automatically tracked time.
However you go about it, get your invoice management automated as soon as your contract is finalized. This will prevent you from having invoices floating in space as the project progresses, and your client will benefit from knowing exactly what to expect when they're billed throughout the project lifecycle.
2. Keep your workflows streamlined with task management
Pipedrive is famous for its ability to simplify and automate workflows, which is a great tool for overall productivity. Our #2 tip is to keep this consistent flow going after the deal is won.
Keep workflow automation rolling on the project side with comprehensive task management. This will include features like Kanban boards and task lists to easily monitor project status.
Another non-negotiable within your task management suite is collaboration tools like messaging and chats between team members that enable them to share information around specific tasks and projects.
3. Keep sales, marketing, and project teams in sync across all projects
Try to prevent hiccups in the handoff from sales to project management, as this is a common bottleneck for service businesses. To do that, it's imperative that you get sales, marketing, and project teams in sync in a tangible way.
Doing so will also promote obvious transparency across your entire organization so that sales and service can work in harmony on prospects that become clients and clients that become projects.
Use collaboration tools like Slack and have everybody get on the same page with what channels will be used. And get everyone plugged into the same project management software. You can more easily keep all your teams in sync with Pipedrive if you use integrated software that goes from deal to cash, which we will get to in our last tip.
4. Save time with project templates
You don't have to reinvent the wheel or even do data reentry to create a project from your Pipedrive CRM data. When it comes time to create a project, leverage templates and save your energy.
You can save a lot of time by using project templates that can then automatically load your relevant client data from Pipedrive. You can also leverage past approaches with successful projects for those similar ones in the future with the most integrated project management tools for Pipedrive.
5. Make time tracking standardized and easy
Mandate one method of tracking time and make sure everyone sticks with it. You can do this by using a free time tracker or doing it with a project management tool.
Because Pipedrive does not offer native time tracking, you'll have to adopt some kind of third-party time tracking software no matter what.
Go for something that makes time tracking so easy for your team, they won't even have to think about it. Look for features that accomplish this with automation and convenience. That will often include browser extension, mobile app, GPS, and/or self-driving time tracking.
6. Use the 2-way calendar sync
One of Pipedrive's most valuable integrations is the two-way calendar sync with your Outlook or Google calendar. Keep this sync going through the project phase, either with Pipedrive Projects or your project management tool. This will help your entire team stay productive and take advantage of automated alerts for upcoming deadlines.
7. Client Portal
The client portal isn't as common a feature with most project management tools, but boy do customers love it. When you're carrying your deal from Pipedrive over into the project execution phase, it's recommended to offer clients glimpses into the process with a client portal, especially for professional service businesses.
You can pick and choose what the customer sees, and it can really make a positive impact on their experience, as well as optics for your transparency as an organization.
8. Keep your tech stack as slim as possible
Avoid the pitfalls of SaaS sprawl by keeping your tech stack slim and efficient, favoring all-in-one platforms and affordable licensing agreements.
It can be really frustrating, on big projects especially, when team members across the world are expected to use too many software solutions that are often redundant or in place simply because they always have been. It's recommended to do periodic audits of your tech stack anyway, so before you start an expensive Pipedrive project, check to see if you can trim the fat a bit by consolidating or eliminating something.
9. Integrate your project management tool with the Pipedrive CRM
Finally, to make executing the items on this list a breeze, be sure to integrate your project management software with Pipedrive. That way, you can go from sales to service under one digital roof.
You have a few options here, the first of which is to use Projects by Pipedrive, an add-on to your Pipedrive subscription. Alternatively, you can go with a separate tool that integrates with Pipedrive. Third-party project management tools that provide a two-way Pipedrive integration include Monday.com, PSOhub, and Asana.