Best Time Tracking Software for Professional Services in 2023
by Juliette Lagerweij on August 16, 2023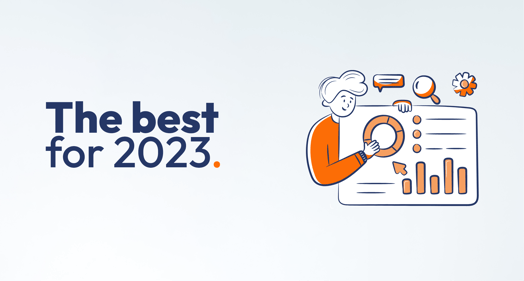 One of the little nagging problems that still plague professional service agencies is accurate time tracking.
Although there are a ton of software options out there to supposedly make the job easier, billable hours still get unaccounted for. This results in less billability and less profitability for the agency.
So, why are professional service businesses still struggling with the problem?
For one, even if they're using time-tracking software, consultants are still being asked to fill out timesheets. This can feel a lot like micromanaging, and the task remains tedious, especially when recording time after the fact.
The key to time tracking is to make it ridiculously easy, to the extent that consultants have to put in little to no effort.
We, therefore, figured out the best time tracking software this year for PSOs that do just that. Check out our list of platforms that rise above the standard to deliver a more seamless experience by automating the process:
2023 Best Time Tracking Software for Professional Services
Why do professional services need time-tracking software?
Any business with hourly employees needs some form of time-tracking software to accurately account for everyone's hours and pay individuals accordingly.
Professional services, in particular, need a time-tracking tool to track their billable hours, since most consultants charge an hourly rate.
Even if you are getting paid on a per-project basis, time tracking is still of the utmost importance. You still need to figure out how much time was spent on the project to determine your overall project profitability.
In addition to this, time-tracking software can effectively tell you where time actually goes. For example, a team member may work 30 hours per week, but only 15 of those hours may be billable. A time-tracking tool can relay this information automatically and help you improve your team's utilization rate.
FOLLOW-UP - Why do professional services need
more automated
time-tracking software?
As we alluded to earlier, time tracking is already the bane of consultants everywhere. Creatives are also prone to time-tracking errors and don't like to be micromanaged.
It's therefore beneficial in professional services to use a more automated time tracking tool, so teams don't need to think about it as much.
Another reason– project managers are often dealing with multiple projects with team members across the world. More automated features can help remove the hassle factor and keep consultants productive with their time.
Finally, one of the biggest benefits of automated time-tracking software is that it can connect to your invoicing. That way, no one needs to submit their hours and create an invoice. And time entry errors are significantly less common.
Instead of the old-school way of invoicing, consultants will simply click to track their time and once tracked, this time will automatically be relayed to invoicing. Your client will receive each invoice on time, and your consultants will get paid for their time, without any unnecessary in-between management
How we made our list
To select what we consider the best time-tracking software this year in our industry, we took the following into account:
Functionality specifically for service businesses
Automation to increase productivity
Robust integrations
Useful features like a mobile app
Highly rated for value and efficiency
The Best Time Tracking Software for PSO's 2023
Here's our list of the top 5 time tracking options for professional services this year. These solutions are leveraged specifically by service businesses like digital agencies, IT firms, and more.
Each solution provides advantages that can help your business stay on top of your time management and increase your billability.
For more detailed information on what it's like to use these time-tracking tools, be sure to check out reviews on popular tech sites like G2 and Capterra.
1. Everhour - Best for Startups
Pros:
Highly-rated reporting feature
Seamless integrations
Easy to use
Very affordable
Cons:
No native app for Android
Pricing Tiers: FREE, $5 pu/pm, $8.50 pu/pm
Key integrations: Jira, Notion, ClickUp, Asana
Everhour Project Dashboard
Everhour is an affordable time tracker with a free version that's remarkably easy to use. What most professional service businesses love, according to verified reviews, is the robust reporting feature. This makes it possible to view important metrics like billable utilization in just a couple of clicks.
Most service businesses use Everhour in conjunction with a project management tool and/or CRM, as the platform integrates with popular solutions.
However, Everhour offers a slew of project management functionality in its own right, making it a great value for startups. For example, at just $5 pu/pm, you can get budgets, invoicing, and more included for up to 10 users.
2. PSOhub - Best Time Tracking for HubSpot Users
Pros:
Designed with HubSpot agencies in mind
AI-driven time tracking
Great value
Track time directly in Service Hub
Cons:
Pricing: $12.50 pu/pm, $16.50 pu/pm, $20.50 pu/pm
Key integrations: HubSpot, Slack, Microsoft Teams, Salesforce
Self-Driving Time Tracking by PSOhub
PSOhub is more than just a time tracker– it's a full-blown project management suite. That said, PSOhub's time-tracking features happen to be the most comprehensive and innovative on our list.
Firstly, you can expect high functionality in the mobile time tracker and browser extension. Plus, you can leverage connected invoicing and what PSOhub calls self-driving time tracking. Self-driving time tracking literally automates the entire process by using AI to learn from what you're doing based on your calendar and even your GPS location.
HubSpot users get additional features, like Service Hub time tracking. This is a game-changing feature for professional services, as explained by verified users who love that PSOhub itself looks and feels like the HubSpot environment.
3. Best for Enterprise Businesses - Timely
Pros:
Quick to get started
Automated features
Promotes productivity
High-rated customer support
Pricing: $9 pu/pm, $16 pu/pm, $22 pu/pm
Key Integrations: Asana, Basecamp, Gmail
Timely's Timesheet Template Collection
After combing through verified online reviews, Timely is the highest-rated time-tracking software for enterprise-level organizations among our candidates.
Timely is one of the easiest time-tracking platforms to onboard, since its automated features get to work from the start.
Timely also earns high scores in the customer service department, getting rave testimonials from project managers and business owners who've been able to customize the software to do exactly what they want.
Worth noting, although large businesses like Amazon use Timely, it's also popular among solopreneurs and small service businesses who benefit from the time they save from automation.
4. Scoro - Best for Creative Agencies
Pros:
Awesome collaboration tools
Project management
Lots of automation
All-in-one functionality
Cons:
Pricing: $37 pu/pm, $63 pu/pm
Key Integrations: Asana, Slack, Pipedrive, Mailchimp
Scoro Time Tracker
For creative agencies in particular, it doesn't get much better than Scoro, a totally comprehensive project management suite that includes a CRM.
Creative agencies often have problems billing clients correctly for big projects. Scoro users report that this is one of the biggest reasons the solution has helped them become more profitable.
Scoro is more expensive than all the other time trackers on the list, as this feature isn't available until the $37 pu/pm tier. However, because it includes so much, Scoro users can drop a lot of other software in their tech stack.
5. Harvest - Best for Solopreneurs, Independent Consultants
Pros:
Simple
Automated invoicing
High-rated desktop app
Integrates with everything
Pricing: FREE, $10.80 pu/pm
Key Integrations: Slack, Paypal, Jira, Asana
Reporting by Harvest
Independent consultants are often responsible for tracking their own time and submitting their invoices to their clients. The same goes for solopreneurs who may be completing an entire project on their own.
In these situations, Harvest's time-tracking solution is a good fit. It's perhaps the easiest time-tracking software to use on our list, and it also happens to be highly affordable.
With Harvest, consultants can automate their invoicing by connecting it with their accounting software. You can even connect to Paypal to handle the actual payment process. Overall, users agree that Harvest makes time tracking and invoicing a painless experience.
Review Roundup
Time-tracking software is a necessary element of the tech stack for every kind of professional services business. That includes solopreneurs to enterprise-size businesses and everyone in between.
Compared to other industries, professional services in particular can benefit from highly automated time-tracking software that integrates with other platforms they already use.
In this respect, a time-tracking tool can actually help increase productivity levels and billability organization-wide.
While there are dozens of time-tracking apps available today, our list above represents the best options for professional services because of their value and automation.
Choosing the right time-tracking software for you and your team will depend on your niche and what solutions you're already using. For example, if you're a HubSpot user, you'll want to go with something that integrates with your CRM. Or if your team lives on Slack, you'll want to make sure your time tracker integrates. And so on.