Time & Billing for CPAs: Software Buyer's Guide
by Julie Bennett on February 12, 2021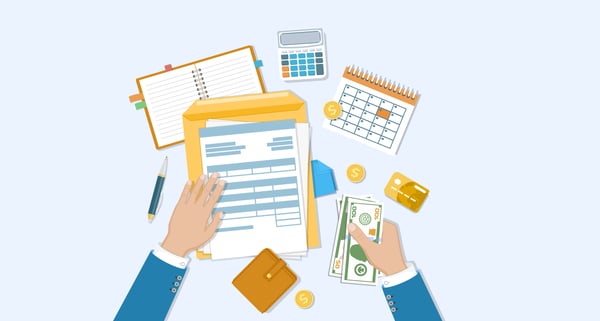 We have to break it to you now: If you're looking for a long list of time and billing software for accountants, this post isn't that. (We suggest you look at a reputable software review site like Capterra or G2)

What we are offering is a guide to the four criteria you need to keep in mind before purchasing CPA time and billing software.
First thing's first: What exactly is CPA time and billing software?
Accountants who charge an hourly rate know that time and billing are deeply interconnected. But in some industries, time tracking and billing/invoicing are two different things. That's why some time-tracking software tools don't include billing, and some billing/invoicing tools don't include time tracking.

So when you go looking for your perfect solution, you may find that it's actually two tools.

With this in mind, here are four key criteria to consider when choosing time and billing software.
1. Comprehensiveness
Although time and billing aren't always features of the same software tool, it's in your best interest to find a solution that pairs them. In general, for accountants — especially those with small teams — the more comprehensive the time and billing platform, the better.
Benefits of combined CPA time and billing software include:
Faster workflows
Less chance of error in data transfer/transcription
Fewer integrations to break
Fewer subscriptions to manage
Fewer logins to keep track of
Pro tip: Some platforms will also include project management, contract management, and other features, allowing you to further streamline your processes and cut down on admin time.
2. Integrations
Speaking of workflow automation, here's a concept you'll want to get familiar with: lead-to-cash flow. This describes the customer journey from the early stages of marketing all the way through to a paid invoice.
The only way to achieve an optimal lead-to-cash flow is via time and billing software that integrates with other solutions in your tech stack, including your:
CRM
Marketing automation software
Sales software
Help desk/support software
When you overhaul your lead-to-cash flow for maximum efficiency, you'll decrease admin time and remove friction points that can lead to customer churn.
Pro tip: To find integrated software, search the marketplace/integrations library of the other service provider (e.g., the HubSpot marketplace to find Hubspot-integrated time and billing apps).
3. Industry-specific design
There are plenty of time and billing solutions in the marketplace, but few are designed specifically for accountants.
Related: The 7 deadly sins of time tracking for accountants
But specificity isn't always a good thing — niche software companies tend to have a smaller customer base and less revenue. That usually means they don't update frequently and often provide a poor user experience and/or bad customer service.
On the other end, a broad solution might pander too much to the everyman that it doesn't offer enough of the tools you need.
What you want is something in the middle: a company that services multiple industries but has given thought to yours specifically.
Pro tip: A good benchmark to look for is whether the company provides professional services-specific time and billing software, aka PSA software, which typically has hourly billing and different invoice types built in.
4. Price
We wouldn't dream of lecturing an accountant about price. But familiarizing yourself with software-as-a-service (SaaS) subscription models is important, as it will help you uncover the true cost of ownership of a solution before you buy in.
Many SaaS models are "freemium," meaning they'll start free and then charge extra for additional features. Others will charge based on number of users. Others charge a flat rate. Most services offer discounts for annual subscriptions.
Pro tip: Watch out for hidden costs! A platform that seems cheap can actually become quite expensive after factoring in fees, implementation costs, and other expenses.
Now, go find your software solution.
Get the most out of a CPA time and billing software solution by keeping these four criteria top of mind:
Comprehensiveness
Integrations
Industry specificity
Price
And since you're here, may we suggest you begin your search with PSOhub?
With comprehensive and industry-specific features, integrations that streamline your lead-to-cash flow, and affordable pricing, PSOHub may be the time and billing solution for you.