PSA Software: Does it work for IT companies?
by René de Jong on July 28, 2020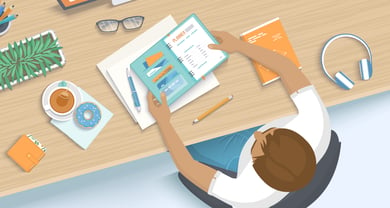 Professional services automation (PSA) software is a time saving, efficiency creating, and bottom-line improving type of tool.
Various businesses from architectural firms to marketing agencies have been using some form of PSA software starting with the earliest iterations in the 90s to keep track of billing, time and expense, and more under the same roof.
Since the dawn of the PSA industry, solutions have become better versed in automation and self-driving features which have coincided with the rise of AI, the IoT, etc. In a nutshell, it's a great time to be a business who needs a PSA solution because the contenders are now more intelligent and affordable, thanks to larger competition in the space itself.
"IT service providers, especially those using HubSpot as their CRM, are no strangers to automation, but often get clogged in their funnel-to-cash because they're NOT using smart PSA software."
If you're an IT company that uses Hubspot, you may not have considered using a tool to automate business processes. But since tech is your bread and butter, you're probably amenable to technological solutions to process problems.
And that's exactly where PSA software comes in.
IT service providers are ideal candidates for getting maximum value out of PSA software, since they are uniquely positioned to understand the value of automating routine processes to create efficiencies through technology.
Check out all the ways PSA software provides real value for IT service companies.
Greater efficiency
PSA software allows IT companies to automate many repetitive tasks across many functions, freeing up business development time to pursue opportunities and connect with leads. Features like self-driving time tracking can reduce or eliminate the need for manual time-logging for client-facing team members.
"This makes your team more billable without any extra time and effort to get there."
Importantly, PSA software for IT companies can help give leadership greater centralized control over overall operational efficiency— mainly because they can see more. Literally. These solutions provide better visibility on your contracts and projects through capabilities like dashboards and real-time alerts that inform you when a project is in danger of going off-rail.
The IT service providers that use Hubspot tools already create incredible efficiencies for their team during the deal phase. Why not extend that benefit to more of your operational tech stack? Be sure to target a solution that will integrate with HubSpot, so you don't have hiccups in the sales-to-project transition.
Reduce errors
In the world of IT, details matter. PSA software can help you ensure that all your ducks are in a row when it comes to project management, smart contract management, self-driving time and expense tracking, and invoicing
Smart invoicing and self-driving time tracking are two critical features that any PSA software with real value will provide you. They're the heavy hitters that reduce errors where it's arguably most important— getting paid.
You can set your parameters and automatically transfer your team's billed hours— which are generated with minimal effort using self-driving time tracking—into invoices that then communicate with your smart contract.
It's about automating you from the deal-to-project phase all the way through servicing and cash.
Mitigate Complex Project Management Challenges
IT service projects can be complex, with many moving parts and the need to connect with various stakeholders.
PSA software can help you automate a lot of the initial project setup, reporting, and invoicing processes so that your project management team can keep the focus where it should be— on the client relationship. PSOhub also enables you to integrate with Project Execution software such as JIRA, Slack or Monday.
Combine Stability with Flexibility
Great PSA software like PSOHub will allow you to configure projects, invoices, and more dynamically based on various factors. The end result is that you don't give up the flexibility you need to get the stability you want!
Why PSA software for IT companies makes sense
IT companies have a LOT to gain from implementing PSA software:
Greater efficiency
Fewer errors in project management— especially valuable on complex projects
Increased billability
Optimized funnel-to-cash
Saved time and money!
We invite you to see why PSOHub is the PSA software of choice for many successful IT companies that use Hubspot. Try us out free and skyrocket your efficiency!