Benefits of Smarter Time Tracking for Creative Agencies
by Martijn van der Hoeden on January 12, 2022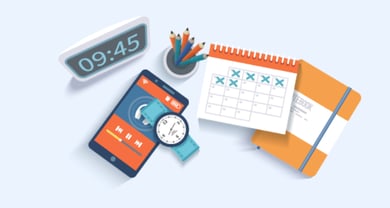 Time tracking for creative agencies– if they're not yet using efficient creative project management software– isn't always smooth-sailing.
For one, marketing agencies and other content creators are constantly juggling multiple projects, all at different stages of completion.
Plus let's be honest, it's not a secret that creative-types aren't known for being the best at admin tasks like time tracking.
But it's not just the creatives that suffer financial windfall from shoddy time tracking. A lot of people are doing it wrong:
According to Market Research Future time tracking data from 2018, the US economy lost 50 million hours in productivity every single day because of untracked time.
Tracking time can be challenging for creative teams to implement as they're often trying to stay in their creative flow. They don't want to be hindered by necessary, but disruptive admin tasks.
This is where smarter time tracking comes in, especially self-driving time tracking. Leveraging smarter time tracking can be hugely helpful to growing your creative agency and may actually help improve the work. Discover exactly how it can benefit your business by:
Getting more accurate time & budget estimates
Making overall project management easier
Allowing you to adjust project scope and price based on data
Tracking what projects are actually profitable
And more
Big-Picture Benefits of Time Tracking for Creatives
The key to smarter time tracking for your agency is creating processes. This may seem counterintuitive for creatives, but easy time tracking solutions will actually make their lives easier. It can help them meet deadlines, stay within budget, and block time to get things done.
So when we say 'smart' or 'smarter' time tracking, what we really mean is time tracking that is:
An organized process managed by software
Connected to project management data
Automated as much as possible
Easy for everyone to use
Check out the big-picture benefits of smarter time tracking for creative agencies to see the tangible ways it promotes efficiency.
Correct budget and time estimates
Implementing a time tracking system will help your team bill accurately for their work. Because you can easily see billable hours, there's less gray area when it comes to project forecasting. Smarter time tracking from a project management tool takes the guesswork out of budget proposals and helps you see how long projects really take
Also, when creatives are in flow, they can stay there without interruptions. Teams can correctly budget their time and see how much time is left for each project when they track it. This way, no one needs to message them or come tell them where more/less time is needed.
Easier project management from start to finish
When you know how much time you're really spending on projects, you can get more value from each one. Having a time tracker that aligns with your project management means you can easily understand how much time is being spent on each task and by each person. In a nutshell, your project management will be easier when you can track how much time is spent on a project across all team members.
Enables task delegation and resource management
A smart time tracker is an asset for proactive project management and fans of the agile method. Various options of project management software for creative agencies were designed with this method in mind. Accordingly, smarter time tracking will give you the ability to adapt and respond to change by connecting with your task management and resource management.
You'll be able to see on real-time dashboards who on your team is at capacity and who's getting burned out. And since you can see hours split among the team, you can also see who has the space for new tasks. You can then reassign tasks or delegate subtasks accordingly without skipping a beat.
Data collection to make adjustments in scope/price
Accurate time estimates lead to accurate scope and getting paid for all your work. If you're going overtime on a fixed-price project, your time becomes less and less valuable the more you spend on it. Accurate scoping and estimating can prevent that, and time tracking from a project management solution helps you do just that.
A lot of creative agencies can lose money by not accounting for hours worked on in-house tasks. With a smart time tracking tool, you can quantify your internal time– all of it, not just your billable hours– so you can see where you're spending more time than needed. This means you'll have a better understanding of how long projects actually take, based on data.
Profitability tracking
This is where it really pays to use a time tracker that's integrated with or offered by your project management software (aka smarter time tracking). Because your time tracking is connected to data analytics, you can easily track which projects of yours are more or less profitable. This can help you pinpoint what exactly made the project more/less profitable, so you can repeat or avoid those processes in the future.
Better profitability tracking allows you to better allocate resources and find projects that are more valuable for your team in the future. Project management for creative agencies that has an integrated time tracker makes doing it easier.
Automate your invoicing (and never create one again)
Last but not least, what makes an integrated time tracking solution worth it for creative agencies is invoice automation. Having to create, send, approve, correct, and redo invoices eats away at a valuable time. But invoicing is a necessary evil that directly affects the bottom line– Without a system in place, your team can lose out on a lot of billable hours.
That's why automating your invoicing from your time tracking data is becoming more and more popular among small professional service agencies. Your time tracking can communicate with your invoices, which can be automatically or manually approved, and then sent in one click or less.
Wrap-up: Smart time tracking by creative project management software
Creative project management software that includes time tracking– and using it– can help your agency grow while focusing on the work you love and getting paid correctly for it.
Software like PSOhub can bring tons of value to your organization and can not only help you track your time efficiently, but also intuitive project management tools alongside invoicing, budget, and contract management.
Curious about how PSOhub works for your team?
PSOhub: time tracking software for consultants
As Miles Davis once said, "Time isn't the main thing. It's the only thing."
So stop wasting time. Sign up for PSOHub today and become the most efficient consultant you can be.