Pros & Cons of Excel/Google Sheets for Profitability Analysis
by Martijn van der Hoeden on October 31, 2022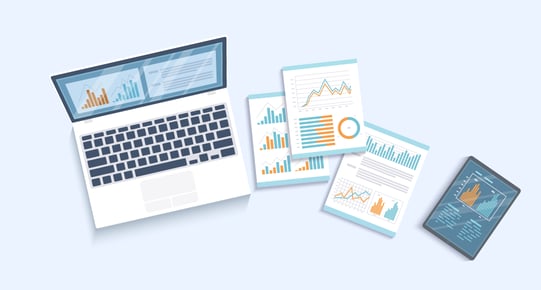 Are you using Excel spreadsheets to do your profitability analysis? (If you want to get started using Excel for your profitability calculations, stay tuned for a link to a free template...)
Regardless of your system, profitability analysis can and should get granular in professional services.
For example, most growing agencies want to know the profitability of their individual projects, their customer profitability, profitability during certain time periods, in certain scenarios, etc.
This information gives key insights into how efficient the business really is. Perhaps projects are more profitable when certain team members are or aren't present. Maybe certain clients generate large net profits, but the profit margins on their individual projects aren't where they should be.
Why do a profitability analysis in the first place?
Small businesses in professional services, especially, can garner super-impactful knowledge to help achieve higher project profit margins. Another benefit is the ability to pick and choose clients as you scale the business, or alternatively fine-tune your processes to make your existing clients more valuable.
Lots of startups and SMBs begin calculating profitability analysis with Excel spreadsheets at the jump. After all, you can get started easily right away and it seems like an easy way to get the profitability metrics you want to see.
Doing your profitability calculations with Excel isn't uber-complicated, but it still is prone to human errors and the time-and-energy suck of manual entry.
As small businesses grow and scale, they usually hit a point where they look for something automated and easier.
If you're still using Excel spreadsheets or Google Sheets to do your profitability analysis, check out the following pros and cons of using them for your small business.
What is profitability analysis?
As a number or series of figures, project profitability reflects the rate of efficiency by which a business generates profit for its services. The definition of profitability analysis is simply the process of figuring out how profitable your projects and your customers are. Profitability analysis for professional services includes the following figures:
Net project profit - The net profit total equals your Revenue minus all the costs incurred by your organization to complete the project.
Net customer profit - The net profit total equals the sum of all the net profits from your projects with the customer you're analyzing.
Project profit margin - The project profit margin measures the project's net income against total revenue as a percentage.
Customer profit margins - You can figure out the average project profit margin per customer by simply averaging your current project profit margins for said client.
Time & Energy metrics - (i.e. What do your projects and customers cost you in terms of time and resources? Are they worth the energy they require?)
Profitability Analysis with Excel: Pros & Cons
Pros:
CONVENIENCE - Excel is widely accessible, and since it's such a globally popular tool, most professionals have at least an average level of proficiency. You can get started doing your profitability analysis immediately with Excel, even if you aren't all that familiar with doing these kinds of calculations.
FUNCTIONALITY - Excel has sweeping functionality that lets you do practically anything you want to with your profitability reports and similar data reporting.
FREE TEMPLATES - Excel is known for its abundance of included templates for businesses across multiple industries. Microsoft Office offers a free profitability analysis template for Excel users that you can download

here

.
CHEAP - You have to pay a low annual fee to use Microsoft Excel which makes it affordable. You can also opt for Google Sheets and use it for free, provided you have a Google account.
Cons

:
EATS UP TIME - Manually importing and exporting is a waste of energy for project managers, owners, and anybody who values their time.
CALCULATIONS PRONE TO HUMAN ERROR - Entering formulas on your own or even manually inputting data into a template from another source opens you up to errors. Templates are great, but as we like to say, they're not magic. Not when there are options that offer automation.
DIFFICULT FOR PROFITABILITY TRACKING - It's one thing to calculate the profitability of a few projects or a few clients. But as businesses grow and take on more clients, Excel makes it difficult to track changes over time without devoting time and energy to it.
BAD FOR DATA SECURITY - Pulling financial data from other places and entering it into Excel isn't a good look for data security. It's better to have an integrated solution that keeps all your information together under one digital umbrella.
Profitability Analysis Software Alternatives
For growing businesses and those who want to get more accurate profitability forecasting, there are superior, more automated alternatives. In fact, we think one of the best hacks to increase the profitability of your projects is to use profitability analysis software. No, you don't have to go find some siloed platform that adds to your monthly/annual software license spend.
Profitability analysis is a feature that comes with a lot of SaaS subscriptions that professional services already use! This includes both project management solutions and PSA tools. Check to see if your project management software or PSA tool has a profitability calculation feature. Or reach out to customer support; they can often guide you through the process of doing it with the software and give you tips on automation.
You can use PSOhub for profitability analysis!
PSOhub is one of the only solutions that double as project management AND PSA software. The Quotes feature lets you accurately and efficiently measure the profitability of your projects without the legwork. PSOhub can automatically feed your project data, sales data, customer data, and financial data related to the profitability metrics you want to see. That means you can get granular and see profitability in terms of your clients, your time, and even per resource.
With PSOhub, it's easier to get accurate analytics and reporting at the tip of your fingers. PSOhub keeps all of your project management under one roof, including:
Contract management
Task management
Invoicing
Time & Expense
Resource management
Project planning
Gantt charts
And more!