A HubSpot Project Management Integration with Built-in Invoicing
by René de Jong on March 31, 2020

HubSpot is a powerful and easy-to-use CRM platform, and definitely a smart choice for small businesses looking to grow their marketing and sales teams. However, there's only so much HubSpot is able to track on its own. Project management in HubSpot isn't included in the tool. That's a real shame, because not all closed-won deals translate to a one-and-done invoice or payment milestone. "Project management" is about more than planning and meeting deadlines — it's about keeping track of the details and how they fit into the bigger picture.
The missing link - Project Management in HubSpot
When your sales teams are working within a CRM like HubSpot and your finance operations teams are working within accounting software like Quickbooks or Xero, you're left with a critical missing link: the ability manage projects and accurately track revenue after the sales process is complete.
It can be especially difficult for agencies and consultants to track monthly recurring revenue, make sure they stay within budgets, and offer their clients a seamless experience from sales to service. 360 degree Project Management is therefore messy and time consuming.
How do you ensure the work you're doing is accurately tracked, tied to invoicing, and aligned with the original deal? That's where integrations come in.
Integrating your tools with HubSpot
There are a number of preferred project management platforms with HubSpot integrations, from Basecamp to Teamwork, and some even have free or low-cost options for very small teams. Likewise, there are also invoicing integrations available.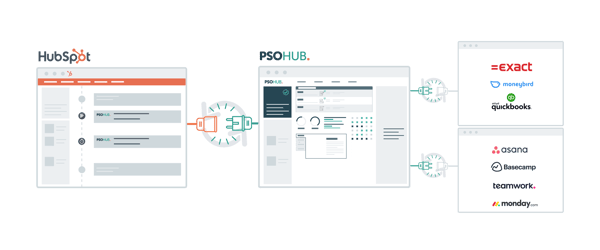 Supercharge Your HubSpot ROI with 7 Must-Have HubSpot Integrations.
Why integrate project management?

It allows you to get a head start on planning. An integrated project management system can exchange data with HubSpot, so each contract and project scope can be applied to a project template — no complicated spreadsheets needed. That means as soon as a contract is signed, your team can get to work on execution.
Integrated tools keep all teams in one place and on the same page, preventing silos from forming.
One of HubSpot's biggest selling points is its capabilities for automation, but it's hard to take full advantage of those capabilities without the smooth exchange of information between tools.
Why integrate invoicing?

It streamlines processes by eliminating the need to manually create and send invoices with data that already exists in HubSpot.
It allows for better budget monitoring. You can see just how much of a project's budget has been used, and compare it directly to the contract.
What is PSA software?
Layering individual systems and tools is a recipe for data silos. While many organizations get by with separate solutions for each process, it's not particularly efficient. Especially for small businesses that don't need each individual tool to be quite so in-depth, an all-in-one professional services automation (PSA) solution like PSOhub can be a game-changing efficiency booster.
PSA software brings project management, task management, time logging, and billing processes together in one platform. These systems aim to solve the functionality gaps of CRM software and improve operational efficiency.
PSOhub: a powerful HubSpot project management integration
When we set out to create our PSA software, we knew it had to integrate with the most powerful CRM out there: HubSpot.
PSOhub is a self-driving solution, designed to help you manage your people, your projects, and your budget, all within the HubSpot ecosystem. It extends HubSpot's functionality far beyond the sales process, allowing you to...
Create projects from the deal record. When a deal is closed in HubSpot, a contract is automatically created in PSOhub. Then, using project templates, PSOhub maps out project phases for each contract.
Assign unique roles and rates per team member. Have a team member that acts as both a consultant and a project manager? You can easily track their time in each role and set different hourly rates.
Automate data entry. Using calendar app integrations, mobile device GPS data, and machine learning, PSOhub automatically logs time to the appropriate project.
Better understand your cash flow and get paid on time. Smart invoicing connects to your accounting software and ensures that payment is received when certain conditions are met.
Learn more about connecting PSOhub with HubSpot.
The key to HubSpot ROI
Getting the most out of HubSpot starts with understanding your team and their processes, and setting them up for success with an easy-to-use system. That means selecting powerful integrations that optimize your team's workflows and improve efficiency.
In fact, HubSpot has found that integrations can have an impact on an organization's success with the platform:
"There's a positive correlation between the number of apps a customer connects to HubSpot and their growth on our platform. It makes sense: The more our customers invest in a unified experience for their customers, the more they can accomplish."
For small businesses, creating this unified experience is even more important. By investing in valuable HubSpot integrations, you can prevent data silos, monitor budgets, track monthly recurring revenue, and keep your projects running smoothly.
Looking for a project management solution that integrates with your HubSpot? Try PSOhub today, for free.