HubSpot vs. Salesforce vs. Microsoft Dynamics. What is the best CRM software?
by Jarno Koopman on July 13, 2020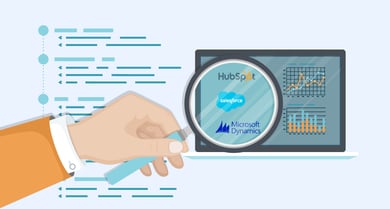 The big three of the CRM game all provide businesses with customer relationship management software to help capture leads, win deals, and manage their sales pipelines.
But the battle continues to rage on about who is best and why.
You can find a lot of comparisons online from bloggers, marketers, all types of people, who have a lot to say about who wins out in a variety of categories. The HubSpot versus Salesforce versus Microsoft battle for the best CRM is constantly being waged.
Now it's time for us to weigh in!
We're making things simple by highlighting the clear winner(s) in each category. To compare the top 3 CRMs, our categories include cost, sales pipeline management, ease of use & implementation, and dashboard & analytics.
See where HubSpot, Salesforce, and Microsoft Dynamics each falls and why.
Cost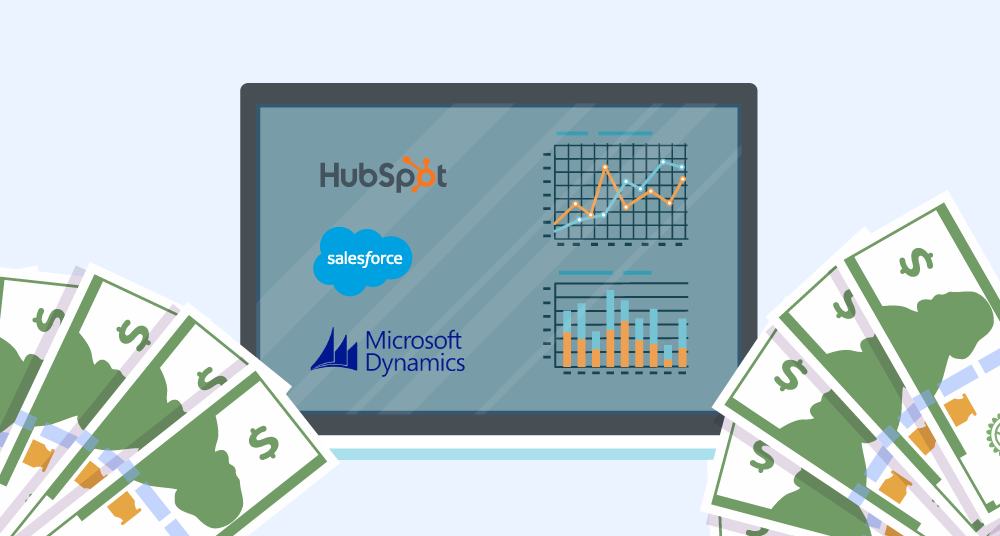 Winner: HubSpot
The clear winner when it comes to affordability between the three CRM apps is HubSpot!
HubSpot's free version can provide basic functionality for small businesses to get started with a CRM.
But there's a caveat here.
When you want to add more features and functionality like dashboards, you'll have to pay with HubSpot, ordering from their menu of different capabilities.
With Salesforce, many of these more customized features are included in your subscription. So if you know already that your business will require more functionality than the basic HubSpot CRM setup, it's a good idea to look into spending a bit more upfront with Salesforce to save money over the long term.
And we haven't forgotten Microsoft Dynamics. Of all three, the starting costs are the highest. However, depending on the features you need a la reporting, Microsoft's CRM could end up saving money at the end of the day. It's all dependent on exactly what you need and what you don't.
Costs
HubSpot: Free for basic features; pay for more as you go
Salesforce: Starts at $25 per user per month + implementation costs
Microsoft Dynamics: Starts at $65 per user per month
Takeaway
Figure out which features you need! From there, you can calculate how much each platform will cost your business at the end of the day by including the number of users, the functionality you want, etc.
While HubSpot technically wins the award for the most affordable CRM, it's possible that implementing either Salesforce or Microsoft Dynamics could end up cheaper in the long run. It's all determined by which features you want and the functionality you need and will depend on the size of your business, your industry, and more.
Inbound Marketing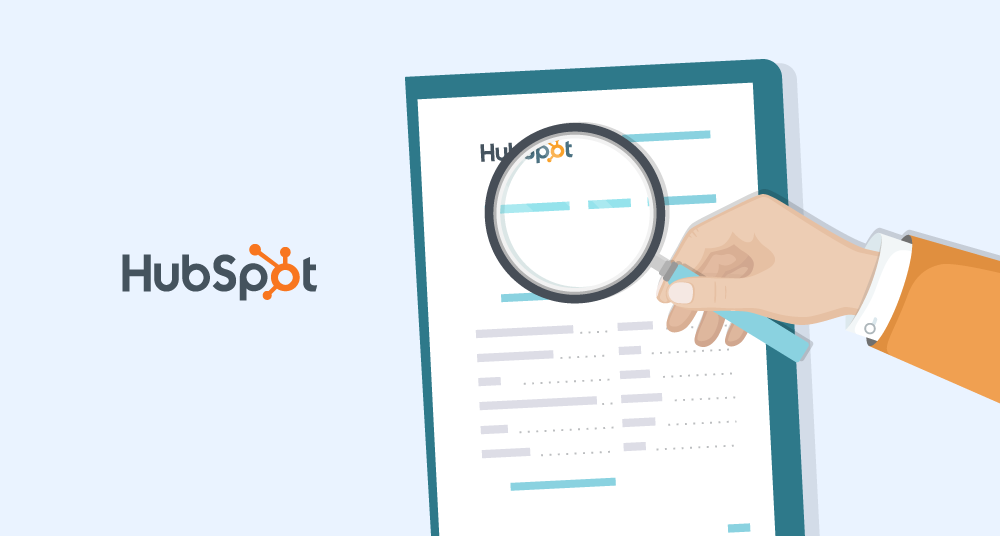 Winner: HubSpot

Is your business hyper-focused on two words: Inbound marketing? If you are, HubSpot is obviously the top choice, as it's consistently rated the best inbound marketing software in the world.
HubSpot basically provides All-in-One Inbound Marketing Software. The platform enables you to launch effective marketing campaigns, grow your traffic, convert leads, and prove ROI. They even created a flywheel for companies to grow through attracting, engaging and delighting prospects and clients.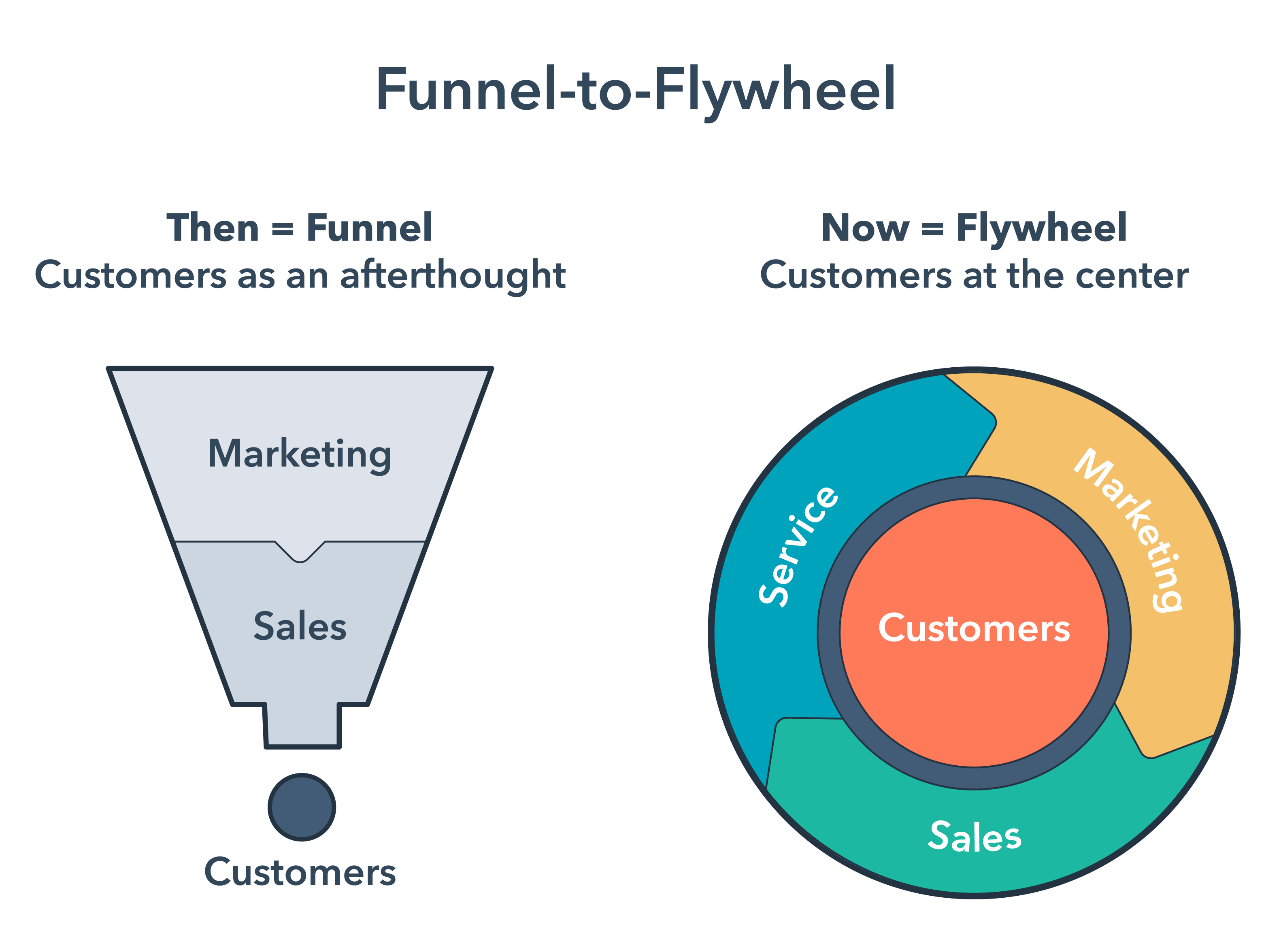 Takeaway
If your sales cycles are a bit more complex but inbound marketing is not a huge focus, Salesforce may be more worthy of your dollars.
Sales Pipeline Management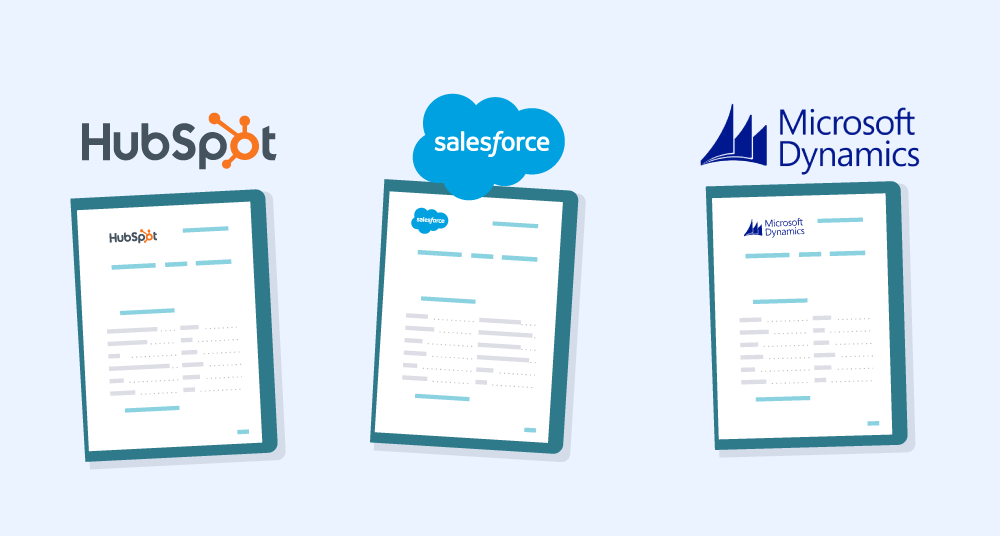 Winner: Salesforce
When it comes to managing your sales pipelines, Salesforce comes out as the top performer.
Salesforce uses the Sales Cloud to generate customized reports on your pipeline and predict which deals are set to close by the end of the quarter. And if your organization is medium-sized and growing, you'll love the territory management features to help you see what's happening across the country and forecast your sales with accuracy.
If you have a smaller business with more basic sales cycles, HubSpot will probably do the trick to manage your sales pipeline. Both software solutions offer real-time data, ways to sort and filter deals, and detailed contact information from all your past leads. But for the national, growing companies out there that want more customization in their pipeline management, the choice is undoubtedly Salesforce.
There are a few pipeline management apps that have been built by independent developers on the Microsoft Dynamics CRM. But since the other two options have the same level of customization on the native platform, Microsoft Dynamics comes in third place yet again…
Takeaway
Salesforce has the most enterprise-level features and the most to offer growing businesses when it comes to customized, intuitive pipeline management.
Implementation & Ease of Use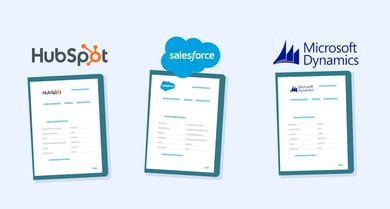 Winner: HubSpot
HubSpot is the clear winner here. The platform is easily implemented in just a few minutes. HubSpot is known for being next-level intuitive, with team members learning the ins and outs in just a few short sessions. Since businesses initially start with the free version, there's no upfront payment or contract.
"HubSpot has nailed the user-friendly thing, and it's easier than ever for small businesses to get on board."
Microsoft Dynamics comes in second place, since many users are already familiar with using Microsoft's products. Implementation is usually markedly easy.
On the flip side, Salesforce implementation, for one, is more costly.
Businesses who want to implement Salesforce have to pay for someone from Salesforce or a certified partner to help configure their CRM and integrate it with the platforms theyre using now. This isn't free and it can take time to customize everything you need.
While we consider Salesforce easy to use, it's not quite as intuitive as HubSpot, and it doesn't carry with it the customer experience of Microsoft Dynamics. Salesforce can require some significant training, and team members totally unfamiliar with the platform will certainly take longer to get the swing of things.
Takeaway
HubSpot is the easiest; there's just no contest.
Dashboard & Analytics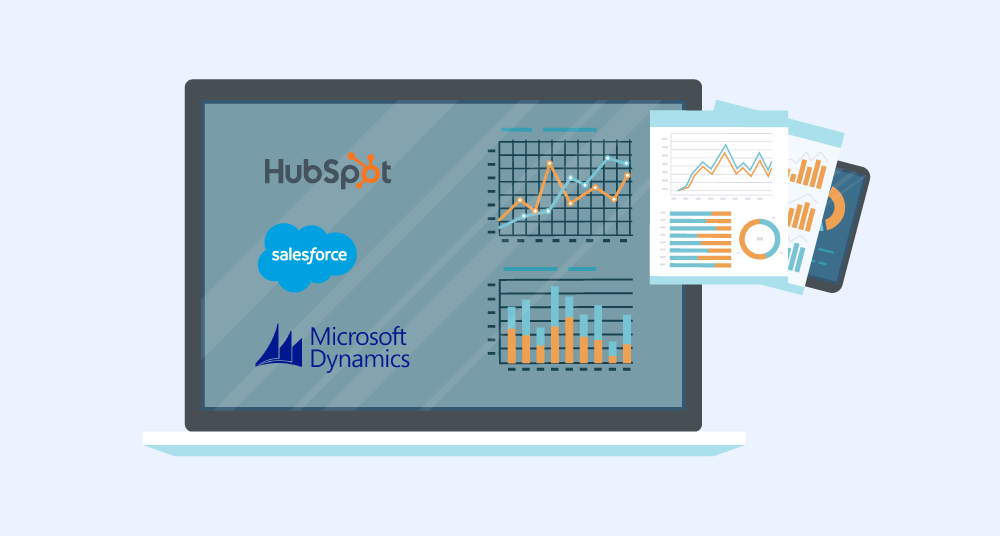 Winner: Salesforce
When it comes to an awesome dashboard and killer analytics, Salesforce takes the cake.
Compared to HubSpot, Salesforce has more visual choices to represent your data on the dashboard. If you're someone who likes to view your sales pipelines and data in a particular way, Salesforce probably offers the most visibility of all three CRMs.
Microsoft Dynamics offers a good bit of customization in this area, but Salesforce has a built-in, low-code development platform that can help you customize its cloud applications in almost infinite ways.
Takeaway
Salesforce has some impressive features that are built-in to the solution that provide the most visibility into your data a la dashboard and analytics.
The Results -HubSpot and Salesforce tied for the win
We had a feeling this was going to happen, and it's appropriate when you take a look at all the HubSpot versus Salesforce content out there. The two always seem to be neck and neck, and for good reason…
Both offer a tremendous amount of value and ease of use for streamlined customer response management, aka getting more deals and managing them!
What it really gets down to are three things:
1) The size of your business
Smaller businesses can get away with less functionality on the HubSpot platform. That's not to say that medium-to-large organizations shouldn't choose HubSpot for their CRM (many do so and love it). But if you need enterprise-level features and are scaling your business, Salesforce can make more sense and even save money in the long run, depending on the scenario.
2) Your preferences.
Some people simply prefer HubSpot because they find it the friendliest. Salesforce can be a bit more intimidating, but if data is your thing (and it should be) and you want to see it a thousand ways, it will probably be your best bet.
3) Your focus.
Focus is the last and probably most important distinction that can help you choose between HubSpot and Salesforce. And what we really mean by this is whether or not your business is hyper-focused on two words:
Inbound marketing.
If this is the case, then HubSpot is the best choice! If your sales cycles are a bit more complex but inbound marketing is not a huge focus, Salesforce may be more worthy of your dollars.
What about Microsoft Dynamics?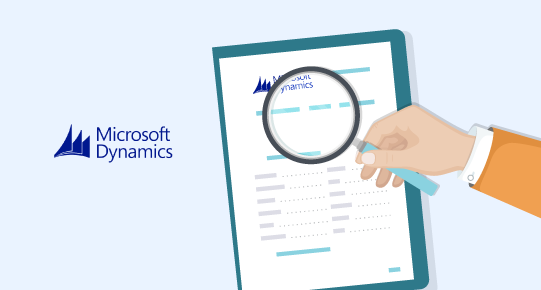 There are a lot of pros to Microsoft Dynamics. For one, the integrations are robust, and most people feel comfortable with interfaces and software familiar to what they've been using at home or at work for years.
But considering the fact that (most of the time) Microsoft Dynamics is the most expensive option, we feel it doesn't offer the same level of value as HubSpot and Salesforce.