The 5 biggest project management challenges for consultants
by Qismat Riaz on January 14, 2022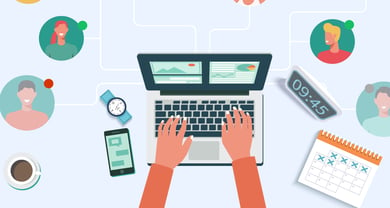 Project management software can solve a lot of headaches for consultants. These tools can streamline processes, help them track their time and expenses, and more.
But not all project management software for professional services– i.e. consultants, creative agencies, architects, legal, etc– is designed with consultants in mind.
If you choose a project management solution that wasn't built for your workflows, you may end up doing a lot of extra work to make them run smoothly.
The whole point of getting software to help consultants manage projects is to lighten the admin load and let them get back to what they do best: delivering amazing results.
Here are 5 project management software challenges for consultants and practical ways to solve them.
1. Projects going over budget 😬
The problem:
For consultants that charge fixed rates for projects or monthly retainers with a set number of hours, going over budget is a bad situation. Time is money, and to state the obvious, spending too much time on a project means losing money. With more 'reactive' project management tools that are siphoned from your tech stack (e.g. tracking hours in Excel or Trello), you sometimes don't know you're going over until it's too late. You can't take lost time back, and you will have to deal with your project becoming less and less profitable until it's finished.
How to solve it:
Fortunately, there's an easy fix that can make your life easier: Use project management software that lets you track time on the go. Bonus points if it automatically pulls in hours limits from your contracts, which means you'll have even more awareness at every moment of the project cycle. Ideally, the software will also alert you if the project is in danger of overservicing
Knowledge Bite: How to Prevent Projects from Going Off-Rail
2. Team members with multiple roles 😐
The problem:
Consultants sometimes charge different hourly rates based on roles (senior consultant, junior consultant, technical consultant, etc.). At small consulting firms, one person may have multiple roles on different projects, or even at different stages of the same project. This can make project management difficult when it comes time to assign work, complete tasks, and bill clients. Unfortunately, some project management software isn't flexible enough to allow one user to have multiple assigned roles. The result can be confusion, sloppy math, and not getting paid correctly for the work.
How to solve it:
Use a project management solution like PSOhub that allows you to assign multiple roles to one user. In this scenario, whenever someone is tracking time on a particular project, they can select which role they are working in.
Knowledge Bite: How to Juggle Multiple Roles
3. Resource allocation 😯
The problem:
For small consulting teams, you really need to ensure that everyone is doing exactly as much as they can. But there's a balance that needs to be struck that eludes many: Assign people too much work, and they'll get burnt out. Assign people too little work, and you're losing money with every hour you're paying them that's not billable to a client.
How to solve it:
Use project management software that gives you an overview of available resources. A solid resource management feature will help you allocate tasks to your consultants who have the most available time. You'll get alerted if someone has too much or too little on their plate, and reassign their work if possible. Basically, you can plan more accurately and respond to your team's and client's needs in real time with resource management like this. Not all project management software for consultants includes it, but PSOhub and others offer a resource management tool that's really easy to use.
Knowledge Bite: 3 Cool Ways to Use PSOhub's Resource Management Features
4. Tracking time accurately 😕
The problem:
People are really bad at remembering how long we spend on things, and it's actually been proven that the human mind can only remember four things at once. For consultants who charge an hourly rate, it's super important that they track their time accurately, so they can get paid for all their hard work. On the flip side, it's extremely annoying to keep doing timesheets all day long, especially if you're on the road or in the middle of a complex project.
How to solve it:
Use project management software with built-in time tracking, so that it's integrated with all your other project data. Make sure the time tracker is available in convenient places, such as a browser extension and mobile app. Also, try not to use siloed third-party time tracking solutions– then there's an extra step involved in making sure that time is accurately tracked to tasks and billed. Bonus points for efficiency if your solution has GPS time tracking or self-driving time tracking that can make tracking time accurately even easier with automation and AI.
Knowledge Bite: 7 Deadly Sins of Time Tracking for Consultants
5. Billing takes forever 🙄
The problem:
Billing takes up a lot of admin time– which is the bane of a consultant's existence– but you have to get paid, so it's a necessary evil. Even if you use billing software, you may still spend lots of time on duplicate data entry. It's a hassle, but billing is not an area where you want to make mistakes. Just so you know, statistically around 61% of late payments are caused by incorrect invoices.
How to solve it:
It's easy– Use project management software with built-in invoicing. That way, you can auto-populate invoices from your project data. You can even automatically send invoices and save hours of admin time if you want. Say goodbye to invoice errors: get paid correctly and on-time with a native invoicing feature from project management software for consultants.
Knowledge Bite: Automate Your Invoicing with Self-Driving Time Tracking
Avert crises from common project management challenges!
All the above project management challenges can swiftly be overcome with cheap software that offers all-in-one capabilities. Project management software can solve many challenges for consultants, if you choose wisely and get an affordable solution that's easy to use.
About PSOhub
PSOhub is an all-in-one project management platform that slashes admin work to help consultants stay billable and increase profitability. Integrated with the world's most popular CRMs– HubSpot, Salesforce, Dynamics 365– PSOhub empowers consultants and small consulting firms to spend less time tracking hours, creating contracts, and billing clients, so they can focus more on impacting their customers.
Curious about how PSOhub works for your team?