EOS & HubSpot Agencies: What's the deal?
by René de Jong on December 30, 2021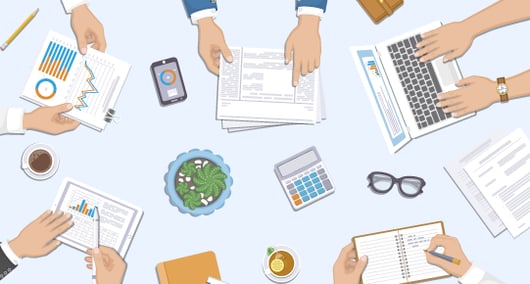 If you're like us, you're always looking for ways to be more productive, more efficient. For creatives, this frees up more time to focus on awesome deliverables. For management and C suite, it frees up energy to focus on growing and scaling the business.
Enter EOS.
EOS, or the Entrepreneurial Operating System, is catching like fire among small and large organizations alike for its ability to do just that. Sources even claim that HubSpot's own growth is based on this methodology.
Because we work with so many HubSpot firms, we've noticed an uptick in the amount of agencies curious about EOS. We've also noticed a couple HubSpot agencies out there who claim to have experienced great growth from implementing the method. In the interest of growth and efficiency, for marketing agencies using HubSpot, we think EOS looks promising...
F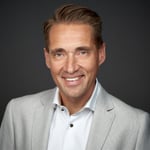 ollow along as we briefly explain what EOS is in a nutshell and talk with Jurgen de Jong, an expert EOS implementer who knows the benefits and execution of the method inside and out. Through his company Lead Out, Jurgen is helping companies around the world implement EOS and experience the benefits for themselves.
What is EOS?
The official definition of EOS, or the Entrepreneurial Operating System, according to the now-trademarked brand is this:
"EOS®, the Entrepreneurial Operating System, is a complete set of simple concepts and practical tools that has helped thousands of entrepreneurs get what they want from their businesses. By mastering this simple way of operating, leadership teams of growth-oriented companies systematically and permanently improve."
Jurgen explains: "EOS was essentially invented by Gino Wickman, whose book Traction explains this groundbreaking new method in detail with practical ways to apply it in the real world. (We recommend reading the book if you're truly interested in EOS!)
In fact, the practicality of Traction and the EOS method is what seems to draw-in business leaders from around the globe. The method is strikingly simple, and Wickman is very tangible in his way of explaining how to leverage it."
EOS in a nutshell
Jurgen continues: "Before getting started it's important to know the basics. EOS identifies 6 Key Components of any organization as:


Vision
People
Data
Issues
Process
Traction
EOS is itself a process; it starts at vision and culminates in traction, or what Wickman calls "the final piece of the puzzle".
The final element of traction is all about making gains that translate into growth through optimizing the way you operate as an organization. Traction is about accountability, communication, organization, and finally, traction itself, the thing you want that's the fruit of all this labor."
"In a nutshell, EOS is a growth-focused method that relies on specific optimization protocols within 6 categories of the organization. Follow these protocols, and you'll be able to grow and scale your business." - Jurgen de Jong
EOS Questions Answered
Considering adopting EOS for your business? Jurgen gave us some helpfull insights to get you started:
Why does EOS work for so many different types of organizations?
"Many people I've worked with have tried so many things in the past. Implementing Google's OKR's, inspirational sessions with Tony Robbins or mastering the Verne Harnish's Scaling Up (aka Rockerfeller Habits) principles. Nothing seemed to work. The reason why EOS works is because it's simple and it provides you with a clear set of templates and actionable worksheets. The growth will come."
How does EOS help businesses grow? What are the goals?
"With the EOS method, all the small details needed to succeed are caught in order to grow. In terms of revenue, the goal is to double your revenue within 3 years, growing 25% every year."
What makes EOS different from other operating systems and business methodologies out there?
"The set of tools in EOS are nothing new; it's about using them in a new direction. By simply following the process, success is guaranteed. EOS ensures that you're not loosing focus throughout the process. Smart tools and templates such as 90 Minute Meetings, Quarterly Pulse sessions, Scorecards and Issue Lists help you to stay on track. "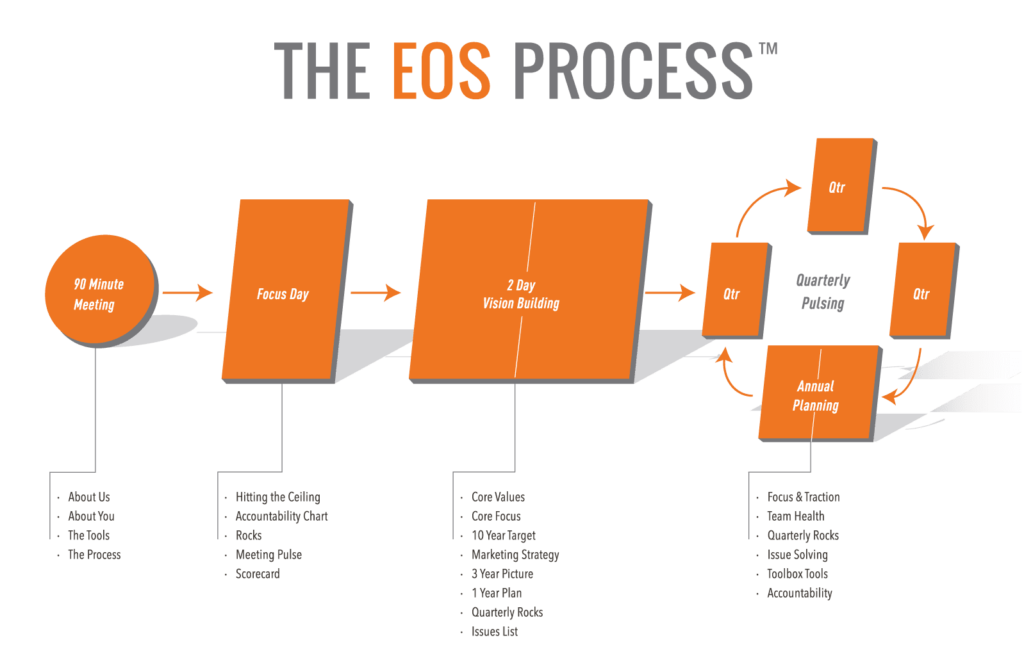 Image source:: EOS WORLDWIDE
What does it take to start EOS?
"There are 2 ways to start EOS for your business. First, companies can implement by themselves. Start by reading the book Traction by the inventor of EOS. But most companies will hire an experienced, professional implementer like me. When you do it by yourself, it's difficult to implement it. Most companies choose to hire an implementer. Based on the EOS process this implementer guides you through the process of implementing the methodology successfully."
How can HubSpot marketing agencies specifically benefit from EOS?
"Companies outside of marketing use EOS for themselves. Marketing companies can use it for themselves to do company growth but also for their clients. In fact, HubSpot themselves used EOS to grow better and experienced how strong it was."
"HubSpot has been enormously successful by leveraging the EOS holy grail: Everything they say and everything they use, people want to get on board."
"And we're seeing now that small marketing agencies want to know more about EOS."
EOS for HubSpot Agencies
Since HubSpot has used EOS themselves, it seems natural that HubSpot agencies would want to get in on gaining traction and trying out the method. But that's what makes this method different from others you've probably seen: there is no 'trying out'. In fact, Wickman says:
"This is one of the secrets to the EOS methodology: We don't let leadership teams turn back. For that, they eventually thank us and say they don't know how they could previously have lived without this high level of traction, accountability, and results."
We found somebody who dove in and reaped the benefits!
This is a great testimonial by Nate Griggs, whose brand is a HubSpot partner. In the article, he talks about what it's like to implement EOS and the benefits his business has experienced, including:
Increased visibility (PSOhub loves that!)

Less internal 'chatter'

Increased accountability

Increased inclusion

And more...
Grigg's advice is to use an implementer to get your organization on board with EOS; that's how he did it. All in all, a great read if you're a HubSpot agency and want to hear what it's really like to do this.