The Best Time Tracking Tools for 2021
by René de Jong on January 15, 2021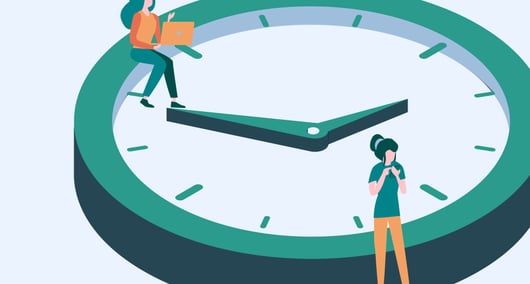 It's no secret that time tracking can have a huge impact on profitability, efficiency, and project management. Unfortunately, many businesses (agencies in particular) struggle with time tracking inefficiencies. In a survey by the Society of Digital Agencies, when asked what factors most impact profit, 28% of agencies cited timekeeping errors and 27% cited timekeeping delays.
"Fundamentally, our 'time' is our offering, and as such time logs are the closest equivalent to "inventory", i.e. a 'unit' of service, that agencies or service companies have and can track. Without the ability to track time, you lose a significant amount of managerial insight for both accounting and people management."
Christian Welborn, Marketing Agency Operations Manager at Salted Stone
If you're reading this, you've probably figured out that using spreadsheets to track time is more trouble than it's worth, and that time tracking tools are a better option. That said, finding the right time tracking solution is easier said than done.
We put together this brief guide to help you choose the right time tracking tool for your situation.
The Best Time Tracking Tool for SMB's and Professional Services Teams: PSOhub
For professional services organizations (especially those that bill by the hour), time tracking is particularly essential. If you can't track time accurately, you can't bill accurately, which will impact profitability. Plus, to keep a project on track, you need to have total visibility into how many of its allotted hours have been used.
PSOhub is PSA software that takes professional services time tracking to a new level. In addition to project management, contract management, and invoicing capabilities, PSOhub also provides automated time and expense tracking to help keep projects on track.
Key features:
Automated calendar integrations
GPS tracking
Smart mobile app
Built-in task management, invoicing and reporting
Integrates with HubSpot and other CRMs
Time Tracking in PSOhub
Why we like it:
We built PSOhub specifically for professional services agencies, with automation and integration at the forefront. With its self-driving time tracking tools, you can reduce admin work, bill more accurately, and get paid faster.
Price:
60-day free trial, $20/user/month for most popular plan
Learn more about time tracking with PSOhub.
Honorable mentions:
Toggl – Toggl has a number of flexible features that work well for creative agencies, like the ability to assign different billable hourly rates and easy-to-use tagging.
TimeCamp – TimeCamp can detect keywords in window titles or URLs and automatically add time to a particular client or project.
The Best Time Tracking Tool for Freelancers: AND.CO
If you're a freelancer, you operate on a much smaller scale than, say, a large marketing agency, and you might not need a lot of bells and whistles with your time tracking solution. But at the same time, you have to handle a lot of things yourself (proposals, invoicing, etc.), so it helps to have an organized toolbox on hand.
AND.CO is an all-in-one solution for freelance management that offers a full suite of freelancing tools, including time tracking and automated invoicing — all for an affordable monthly rate that works well for individuals.
Key features:
Built-in invoicing
Desktop app for Mac
Web app for all devices
Why we like it:
If you're looking to condense your freelancing tech stack into one platform, AND.CO is the way to go. Rather than just a time tracking tool, it's an all-in-one solution for freelancers. Plus, it's extra easy to set up an account if you're already using UpWork or Fiverr.com.
Price:
Free for limited features, $18/month for access to all features
Learn more about time tracking with AND.CO.
Honorable mention:
Harvest – For individuals who only work on one or two projects at a time, Harvest is a solid alternative that offers time and expense tracking without all the extra stuff.
The Best Time Tracking Tool for Remote Teams: Hubstaff
As many companies have learned within the past year, managing remote teams can be challenging.
When your team members aren't all in the same office together, you can lose a lot of visibility into how their time is spent. Hubstaff offers time tracking solutions to help remote teams get that visibility back, improve productivity, and work better from anywhere.
Key features:
Customizable productivity monitoring
GPS tracking
Desktop, Chrome, web, and mobile apps
Why we like it:
Hubstaff's time tracking software is designed specifically for remote work and field work, so if you're trying to manage a remote workforce (or just have team members who are frequently on the go), it's a great option. The productivity monitoring features can be turned on or off based on your preferences, so you can choose to monitor your team closely or take a more hands-off approach.
Price:
14-day free trial, $10/user/month for most popular plan
Learn more about time tracking with Hubstaff.
Honorable mention:
ClickTime – Real-time data makes it easy to see who is available for new work, so you don't have to ask around over email or Slack. Employees can also monitor their own time from personal dashboards for better time management.

The Best Time Tracking Tool for Large Teams: Clockify
For large teams, finding a simple time tracking tool can be particularly frustrating. In many cases, you get stuck paying per user for extra features you don't need (and the larger the team, the more you shell out). Clockify stands out because its free plan allows for unlimited users — a huge plus for large teams. However, if you are looking for a 360 Degree Project Management solution - with integrated Time Tracking features - then you should consider all-in-one solutions such as PSOhub or other Project Management Software.
Key features:
Built-in timer
Customizable dashboards and reports
50+ integrations
Why we like it:
Clockify offers simple, easy-to-use time tracking tools and reporting, integrates with tons of other platforms, and allows you to have unlimited users and projects for free (plus more features for a flat rate). If you have a large team and want to add a straightforward time tracker onto your existing tech stack without paying per user, it's the most cost-effective option.
Price:
Free for baseline features, additional features start at $9.99/month
Learn more about time tracking with Clockify.
Honorable mention:
PSOhub — PSOhub's automated, self-driving time tracking features minimize admin work and maximize productivity, which can make a huge difference for a small team. And with multiple plans available, the platform can scale along with your growth.
Everhour — If you're looking for something with more features and don't mind paying per user, Everhour offers tools for budgeting, invoicing, and payroll in addition to time tracking. It also integrates with Asana, Trello, Basecamp, JIRA and more.
Conclusion
Time tracking can impact project management, billing, productivity, and profitability at your organization. With such high stakes, it's important to pick a time tracking tool that aligns with your needs.
Here's a quick summary of our top picks for different types of teams: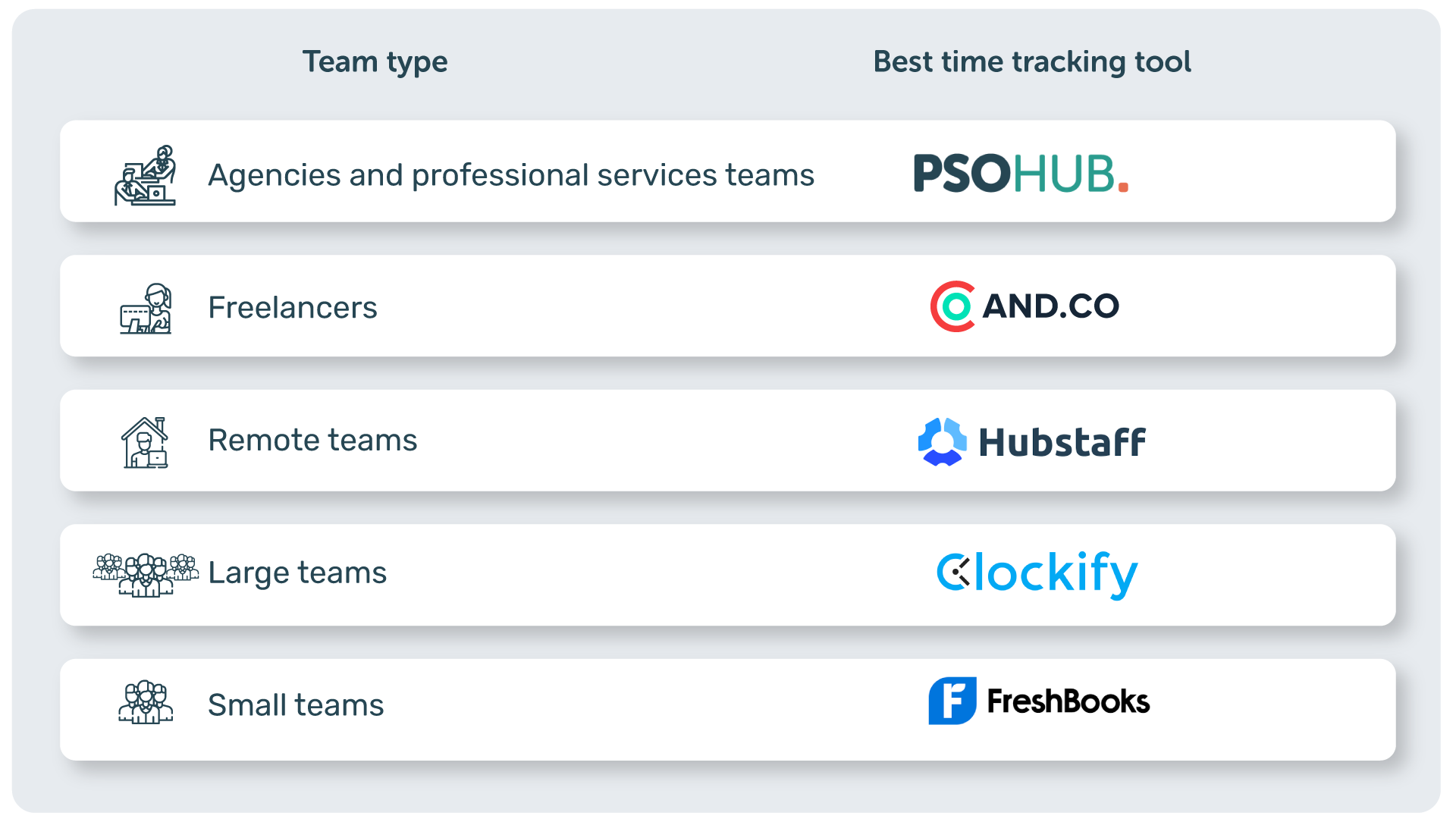 For professional services teams and small/ medium teams, we think PSOhub is the ideal time tracking solution. With automated time and expense tracking tools, built-in invoicing, seamless integrations, and more, it's the key to efficient, accurate time tracking.
See what the hype is all about. Start using PSOhub for free.