The WORST Invoice Format for Digital Marketing Agencies
by René de Jong on September 22, 2020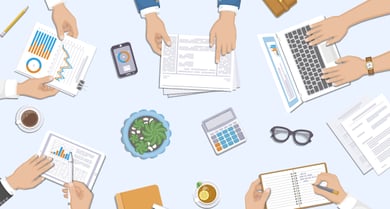 Even in the best of times, invoices sometimes go unpaid. It's a reality that many agencies have to cope with on a daily basis.
Pre-pandemic numbers for the UK from this article paint a sobering picture:
According to the interim Small Business Commissioner, the UK has £23.4 billion outstanding SME late payment debt.
50,000 small businesses fold every year in the UK due to late payments each year
Unfortunately, tough times have only made things worse. Late B2B payments have skyrocketed across Europe since the beginning of the pandemic.
Now, it's more important than ever for marketing agencies to make sure they're paid on time and in full for completed work.
To do so, you'll need to examine your current invoicing process and make sure you're not taking part in bad invoicing habits. A good place to start is the invoice itself. We'll talk about the 4 most common invoice formatting mistakes and what you can do to get invoicing right once and for all.
Common invoice formatting mistakes
When you're manually creating invoices, even if you're using a marketing agency invoice template, common invoice formatting mistakes could be affecting your bottom line. And let's face it, it's not a good look. None of these mistakes are complicated, but they're ridiculously easy to make. So, stay vigilant to guard against these frequent invoice formatting errors.
1) Not including the name of the person to whom you're sending the invoice
Determine who at your client organization is in charge of completing payments and make sure you include their name and contact info on every invoice. This ensures that the invoice gets to the right person and helps both you and the client keep good records.
2) Not specifying an exact due date
Give them an inch, they'll run a mile! Be very specific as to when you expect the invoice to be paid. Rather than vague phrases like "upon receipt", just say "on or before [date]". You can also include something to the effect of, "All invoices due within 2 weeks of receipt." That way there's no confusion or room for interpretation.
3) Not itemizing services/rates
Itemizing helps both you and your clients. From a project management standpoint, you should know which services took x amount of time, and that should be accurately reflected in the invoice. And clients certainly appreciate knowing where their money is going and how much time it's taking. When an invoice is unclear or confusing, you're more likely to end up with disputes. Clearly map out tasks, time spent, and the hourly rate. This is much easier to do with a program that offers self-driving, automated features
4) Creating a basic or sloppy invoice template on your own
When you make your own invoice template with a word processor or download the first digital marketing invoice template you find in a Google search, it probably won't look very professional.
It also leaves room for copy-pasting mistakes, formatting inconsistencies, and other errors. It's far better to use an invoicing system with professional, customizable digital marketing invoice templates built-in
Automation: The Ticket to Better Invoicing
The real secret to breaking these bad invoice habits is automation. Look for PSA (Professional Services Automation) software with self-driving and automated options.
"It's easier to create great invoices when you have full visibility into your project management and time tracking, which you can get with the right PSA software."
If you have an automated invoicing solution that integrates with your CRM, you won't have to spend time tracking down information in other programs. Everything you need to generate an invoice is right there, from client contact info to itemized expenses to custom, professional marketing agency invoice templates.
That means you can send out invoices sooner and get paid sooner.
Get better at invoicing with PSA software
In the agency world, you'll inevitably encounter past due invoices every once in a while. But you can reduce their occurrence by creating better invoices with automation, formatted to perfection every time.
Automated PSA software not only makes billing more accurate, it also reduces the amount of work your agency has to do in order to create and send invoices, so you can send them out and get paid sooner.