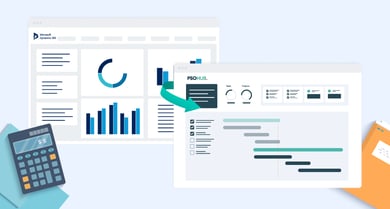 As a CRM, Microsoft Dynamics aka Dynamics 365 offers a great solution for sales and marketing. From small businesses to Fortune 500 companies, people around the world who prefer the Microsoft digital environment are leveraging Dynamics 365 to effectively manage the customer relationship, business operations, and more.
However, when you want a solution or a tech stack to manage all facets of your projects, integrated project management tools can get pricey.
For example, many small businesses start out with Project Operations for Dynamics 365 to take care of:
Time and expense
Resource management
Collaboration tools
Visibility across all projects
While Project Operations certainly offers a lot by way of functionality, it's a bit expensive for small businesses at $120 per user per month.
The solution? Affordable project management for Dynamics 365
If you're not using Project Operations, your choices are currently limited for a project management integration for Dynamics 365. The keyword here is 'integration' as you don't want an outside, siloed project management solution that will decrease efficiency. Two of the more popular choices for Dynamics 365 include Monitask and proMX Time Tracking, but these options are limited when it comes to holistically managing and tracking all phases of the project cycle. Alternatively, a more all-in-one project management solution will empower you to take control and promote more transparency in your organization.
Why should I integrate affordable project management?
You already need tools to manage your projects anyway. But integrated solutions will keep all your teams in one place and on the same page, preventing miscommunication and costly siloes.
You can get a jump on project planning. An integrated project management solution will exchange data with Dynamics 365 both ways, so each contract can be applied to a project template and any changes will simultaneously occur on both platforms. So, as soon as your contract is signed, your team can get to work on the project and start billing.
Automation will make everyone's lives easier. From features like

self-driving time tracking

to smart invoicing, an awesome project management solution can save you and your team major time, provided it's integrated with Dynamics 365.
Invoicing is one of the key areas in project management where money gets left on the table. Small startups and even more established businesses often have invoice revenue floating in space, a detrimental blow to cash flow and the financial value of their organizations as a whole. If you integrate a project management solution with smart invoicing, you'll be able to say goodbye to a lot of problems and hello to getting paid correctly, on time.
PSOhub: Affordable Dynamics 365 integration for project management (invoicing included)
PSOhub is currently one of the most robust project management integrations for Dynamics 365 that's actually affordable. You can do pretty much everything that Project Operations does at a fraction of the price and with more visibility. With PSOhub, you can take care of everything related to your projects in full view and without breaking the bank. Included in the functionality are:
Time and expense
Contract management
Resource management
Invoicing
Project tracking
Dashboards and reporting
Task management
And more!
PSOhub is FREE to get started, and then the price point starts at just $8.50 per user per month.
For small businesses like creative agencies and IT firms that use Dynamics 365, PSOhub is a great path forward to higher efficiency and productivity, especially for global teams.