Case study:
Digital Inside
Full-service online marketing agency Digital Inside improves time tracking and gains better visibility for managers.
12%
Increase of billable hours through accurate time tracking
0
Projects going off the rails since implementing PSOhub
-4
Decrease of tools used for Project Management

Digital Inside leverages their ingenuity, experience, and tools to manage marketing activities for global brands. By specializing in SEO, SEA, social media advertising, and data analytics, Digital Inside helps clients grow their online presence with tangible results. Like many
marketing agencies

using PSOhub, they are considered a small-to-medium enterprise but provide services for big-name brands.
Digital Inside tried several tools for time tracking and project management, but none delivered what they'd hoped for.
The PSOhub solutions
Here's what happened when Digital Inside switched to PSOhub:
Self-driving time tracking saves the day
What drove Digital Inside to PSOhub initially was self-driving time tracking. "Time keeping is important, but also difficult," says Digital Inside Owner & Strategist Guido Tijmensen.
"For the team, time tracking is always an overhead activity, and [PSOhub] makes it easier. It's connected to our Outlook. It's easier than the other tools and it's integrated with the HubSpot project management system."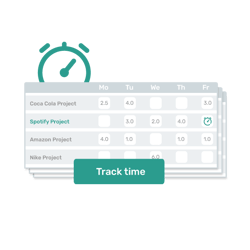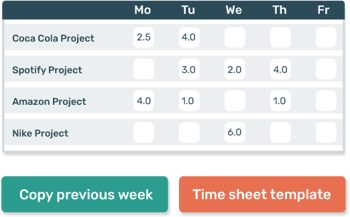 Templates that make life easier
"For us, with PSOhub the trigger was the time tracking," says Tijmensen. "But after using the tool, what also was a really interesting benefit for us was the ongoing projects because when we are onboarding a new client, almost all the activities are the same as all the other clients. So, we need to start with data analytics, then campaigns, then campaign optimization, etc. Now with PSOhub, when we make one project template for one marketing activity, we can copy it to almost all the other clients."
Results
PSOhub provides time tracking with dashboards clearly displaying what time and money are being used on each client in real time.
"I think the PSOhub dashboard is ideal for project management. For me, it gives the overview well of the revenues for each client and for the team, it doesn't cost extra time."
Tijmensen explains, "PSOhub makes it easier for management to steer on what are the valuable customers and who are the bleeders in the organization. It's so easy to put your projects in an agenda and say to which project it is related."
Tijmensen also shrewdly points out:
"For small businesses, it's really difficult to have an accurate overview of all the activities. And a lot of small businesses use Google spreadsheets or Excel for these kinds of activities. It is horrible! PSOhub is easy for your time tracking and seeing your revenue. Especially for smaller teams, it's an interesting tool for the most boring activities."
Says Tijmensen, "I think it's good for long relationships. You need a fair price, and with PSOhub you can see if hours are over. It's more transparent. It's good for the long-term client relationship."
Why our customers love PSOhub
We do thinks differently and that's what our customers notice.
Finally a time tracking solution that understands our needs. My team spends less time on administrative work and more on helping our clients.
Guido Tijmensen
Digital Marketing Strategist & Owner, Digital Inside
Guido Tijmensen
More PSOhub Customer Stories