Contract management features
Smart contract generation
Stop generating contracts from scratch. Build all types of contracts using data from HubSpot, and reuse approaches from past projects in just a few clicks.
Rate and budget management
Introducing contract management software that's as flexible as your business. PSOhub enables you to attach multiple role-based rates to one user and set alerts for time and budget milestones.
Time and material contracts
PSOhub makes it easy to bill clients based on your employees' or subcontractors' timesheets and the materials used for the job.
Fixed-price contracts
Pull data in from HubSpot and easily bill clients using fixed-price contracts.
Recurring and Installment contracts
Use PSOhub's contract management features to automate recurring or milestone-based invoicing.
Dashboards and reporting
How billable is your team? Are there any budgets that are getting off track? With built-in dashboards and reporting, you're always in control.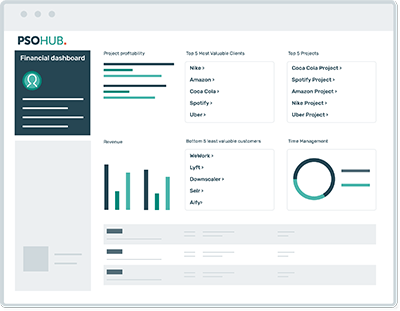 More reasons to love PSOhub
Put an end to overservicing.
Use automated alerts for time and budget overspending to ensure you're always paid for your work.
Role-based rates? No problem.
Finally, contract management software that understands you wear many hats — and that each hat can have a different billable rate.
Save time by reusing templates.
Every client is different... but not that different. Save your valuable time by reusing contract templates with just a few clicks.
PSOhub insights. Perfect for your coffee break.